How do I check my Google keyword ranking I hear you ask…


Well, Google Webmasters Tools is the first port of call. Signup, add your site and away you go… It pretty much is a matter of following the bouncing ball from thereon. There are lots more advantages to join Google's Webmaster Tools and you can link your account with other services such as AdWords and Google Analytics. Go do it now…
However, if you are in a hurry and want some quick results then you can also check your site's ranking through specialised online services. Here are three free sites that will do just that.
Search Engine Genie (SEG) is a one-stop-shop for most SEO wizardry. You can check your Google rankings but there are many more functionalities to pick from. This includes a Google Backlink Checker as well as things like the Google PageRank Checker Tool and Google Banned Site Checker Tool. As sites like these go, it would be worth having a look and bookmarking this as your general "Google Tool Box"
It is simple to use and a handy addition to your SEO toolbox. Simple enter your domain and your keyword and you are done…
Try their Keyword Suggestion Tool as well whilst you are there.
Remember that SEO is a profession so use these DIY sites wisely…
How Do I Check My Google Keyword Ranking by Rene Nusse
Summary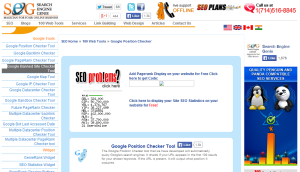 Article Name
How Do I Check My Google Keyword Ranking
Description
An article about how to check your Google rankings.
Rene Nusse