5 Reasons Why you should enable HTTPS on Your Website
1) It's good for getting found in search engines
All other things being equal, Google will rank your HTTPS site higher than a competitor's site that doesn't have HTTPS enabled.
Why, because they like to improve the Internet experience for all browsers which leads into the next point…
2) It's better for users
Some may say that if you do not capturing credit card information on your website then why bother with HTTPS?
However, what about forms with addresses and phone numbers? What about when you log into the back-end of your website?
Your clients demand privacy and HTTPS = privacy
Alternatively, be honest and add this line to your privacy statement:
"We do not use HTTPS so any data on your screen can be seen by anyone with the right skill."
You wouldn't, would you?
3) AMP demands SSL
Accelerated Mobile Pages (AMP) is the current technology that makes certain pages load very fast on mobile devices such as smart phones and tablets. Search result on your mobile device will display a little lightning bolt indicating that AMP is running.
AMP requires HTTPS…
4) Google will be indexing mobile sites
It is simple. Google supports "best practice" and there is enough evidence that it is starting to reward best practice in their search results.
Particularly for mobile devices, best practice includes security. I.e., HTTPS through a quality SSL certificate.
5) "Not secure." label
You may have noticed that your HTTP site is showing ""Not Secure" to the left of your website URL.
Mmmm, not the perception you were hoping for.
Your customers will raise an eyebrow first and compare you to your competitor.
"Not Secure" is "Not Cool" for business and the hard earned reputation you developed over the years…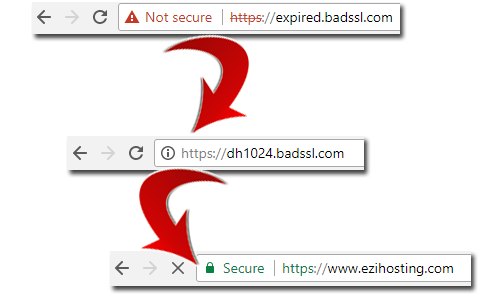 Solution…
To avoid your site being labelled as "Not Secure" PLUS to restore any potential negative perceptions an unsecure site brings PLUS to get your site ranked better in search engines, simply get an SSL Certificate.
We recommend our most popular SSL certificate: GeoTrust QuickSSL Premium
We install it.
We modify all your sites HTTP URLs to HTTPS
We guarantee your site and certificate will work as advertised.
If you have any questions about SSL certificates then please do not hesitate to call us on 1800 112270