Google Chrome
Google Chrome has officially overtaken Microsoft's Internet Explorer as the most popular web browser for the first time, commanding over 40% percent of the combined desktop and mobile internet market.
Google now processes over 40,000 search queries every second on average, which translates to over 3.5 billion searches per day and 1.2 trillion searches per year worldwide.
Google has indicated that its browser, Google Chrome, is going to be more secure for browsers by labelling insecure sites.
Labelling of insecure sites
Labelling will start in January 2017 when Chrome 56 will mark pages that collect credit card information as non-secure given their specific sensitive contents.

However, Chrome will gradually increase their tone to warn browsers of any site that is not secure. In following versions, Chrome will continue to extend HTTP warnings by labelling HTTP pages as "not secure" in Incognito mode, where users may have bigger expectations of privacy. In the end, Chrome plans to label all HTTP pages as non-secure, and change the HTTP security indicator to the red triangle that they currently use for broken HTTPS.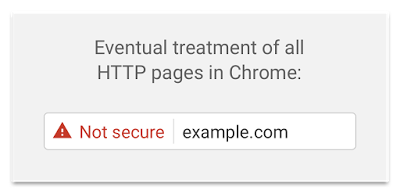 Get an SSL certificate
To avoid this label appearing, we recommend that you start using SSL certification which encrypts any data flowing from your client to your website because your visitors will be reluctant to visit your site when it is preceded with a "Not secure" label.
To avoid the rush and fix this issue, we recommend our most popular SSL certificate: GeoTrust QuickSSL Premium
If you have any questions about SSL certificates then please do not hesitate to call us on 1800 112270