Ok, so you are having a look at the Tennis Booking Plugin for WordPress and want to know how to get started and use it.
If you do not want to read all the below then at least remember this:
Create your calendar FIRST
THEN create courts
FINALLY, paste your shortcode
Installing the plugin
The quickest and easiest method for installing Tennis Court Bookings is:
In WordPress back-end Visit Plugins -> Add New -> Search for \"Tennis Court Bookings\"
Click \"Install Now\"
Click \"Activate Plugin\"
Then simply go to "Tennis Court Bookings" in the WP menu where you are ready to customise the plugin.
If you would prefer to do things manually then follow these instructions:
Upload the Tennis Court Bookings folder to the /wp-content/plugins/ directory
Activate the plugin through the \'Plugins\' menu in WordPress
Then simply go to "Tennis Court Bookings" in the WP menu where you are ready to customise the plugin.
---
1 – Creating a calendar
After installing the plugin, you need to create a "calendar". You do this before creating different courts. The calendar is the highest level. Your calendar will contain several courts. You may have several calendars if you like. For example, "Club 1″, Club 2" etc…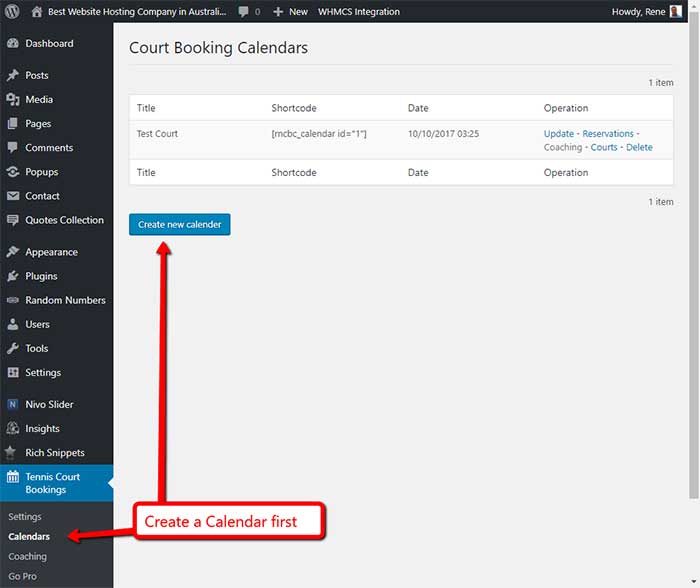 You simply edit and fill in the parameters surrounding your Calendar…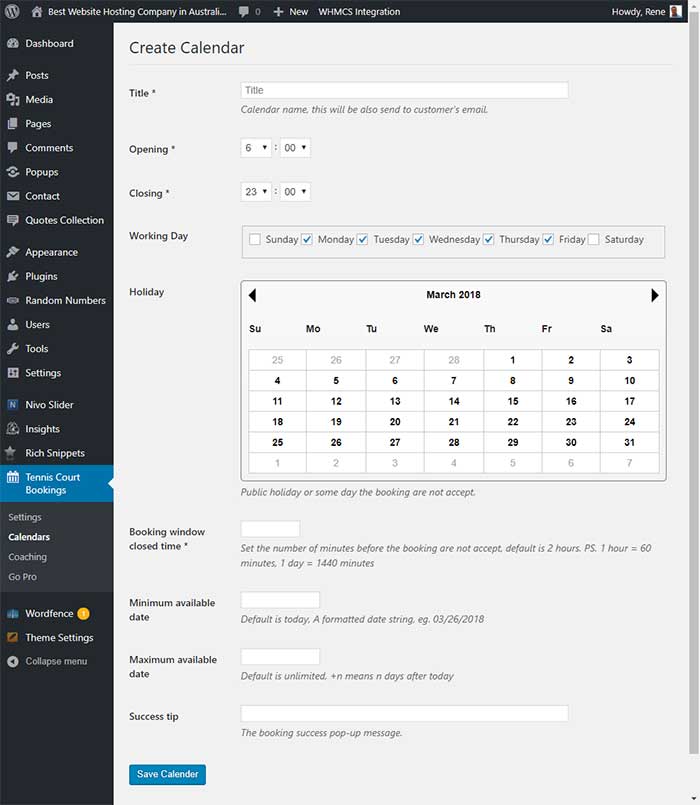 Title
Give your Calendar a name. In many cases this will simply be "My Tennis Club" where "My" is the name of your club. remember, you can have many calendars (clubs) if you like.
Opening and Closing
These are simply the opening and closing times of your club in which players can book.
Working Days
Simply tick those days the players can book their courts.
Holiday
You can designate all those days the club is closed or at least not open for bookings.
Booking window close time
This limits the ladup time the players can make a booking. For example, you may want to set this to 1 or 2 hours. This will reduce those occasions that someone books a court with 5 minutes notice only to find the court being used by others that didn't book. So if you set it to 60 minutes, a 3 pm booking needs to be made before 2 pm.
Minimum available dates
This is if you want to be "open for business from today (default) or any date in the future.
Maximum available dates
Similar to the above, but here we denote the end date. Default is "no end date"…
Success Tip
This is just a message your players will see on successfully booking their court. For example, "Your booking was confirmed. Have a nice game!".
---
2 – Creating Courts
Now you have finished setting up your calendar (your club), you need to add some "courts". Courts can be anything bookable.

Simply create your cout(s) by clicking the blue "Create" button. Remember that courts can be any bookable item so you could also create Practice Wall 1, Carpark 3 etc… But normally you would name your courts "Court 1", "Court 2" or "Grass Court 1" etc…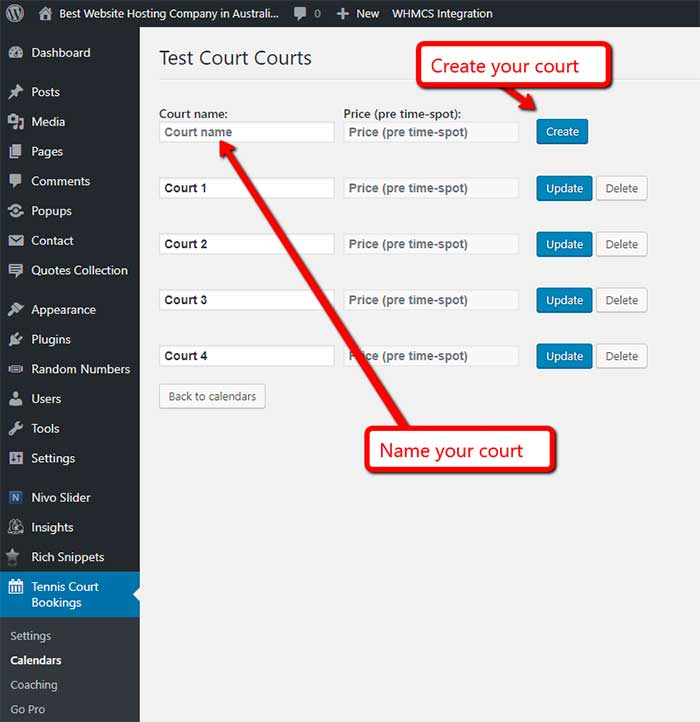 ---
3 – Settings
Now that you have your calendar set up and added some courts, you can finetune your tennis booking system.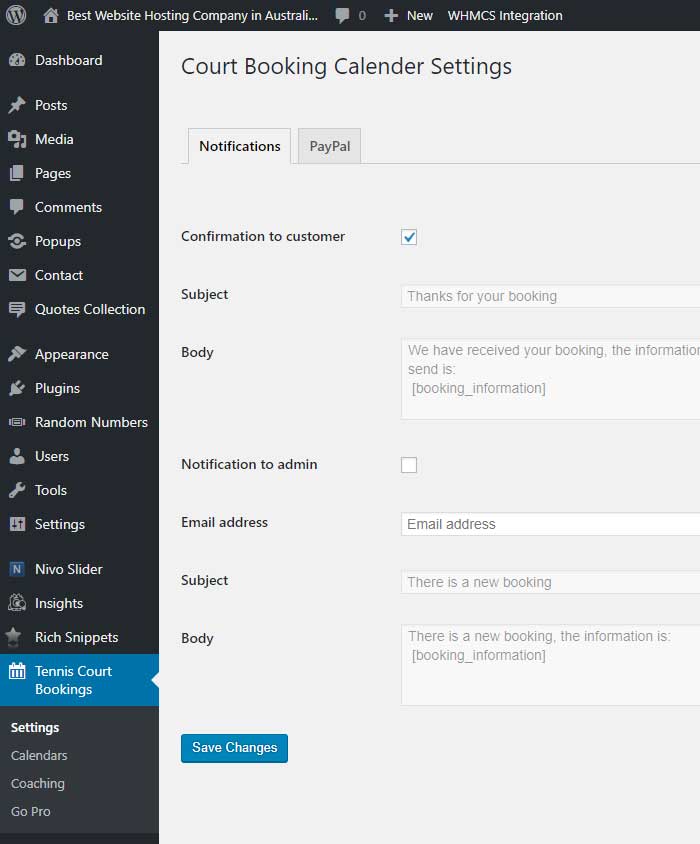 Simply tick the box if you want to send out a confirmation email to the player that just booked.
You can also tick the box that emails a notification to the administrator.
Note that the messages are generic. In the Pro Version you have the ability to edit the message.
---
4 – Rendering your Calendar
After you set up your Tennis Booking system, you need to display it on a page or post. To do this you simply copy & paste the shortcode that was generated.
A shortcode looks something like this:

And will render on your page like this:
Please pick an available day
You can find the shortcode next to your Calendar's title…

Place your calendar shortcode in any page and the booking system will render accordingly.
Make sure you paste the shortcode as plain text in Visual mode and not text mode.
---
5 – Go Pro
When you "Go Pro" you will get more functionalities such as unlimited courts and other features a larger Tennis club may need.
After purchasing your Pro version you will get an email with a key in it.
Copy and paste your key under "Go Pro" in the WP side menu under Tennis Court Bookings >> Go Pro.
Your key should look something like Owned-ss031d99xx

---
6 – Coaching Module
Sometimes it is handy for coaches to pre-book courts for their ongoing activities. This could be Weekly "Redball Session", Once-off "Under 12 Coaching Clinic" or "Tuesday Night Cardio Tennis". The coaching mod can block out regular weekly time slots so this suits regular weekly events. The coaching mod can also limit the amount of participants so there will be a count-down until the session is booked out.
After purchasing the Coaching module, simply follow the instruction in the confirmation email. You will receive a download link and after downloading follow the instructions already given above…
Installing the coaching module
After purchasing this mod, you will get an email that contains a download link.
Simply download the extra plugin and install it the usual way as explained at the very top of this page.
Creating coaching sessions
To create your coaching sessions you will need to go back to your calendar. From here you can go into the coaching session setup.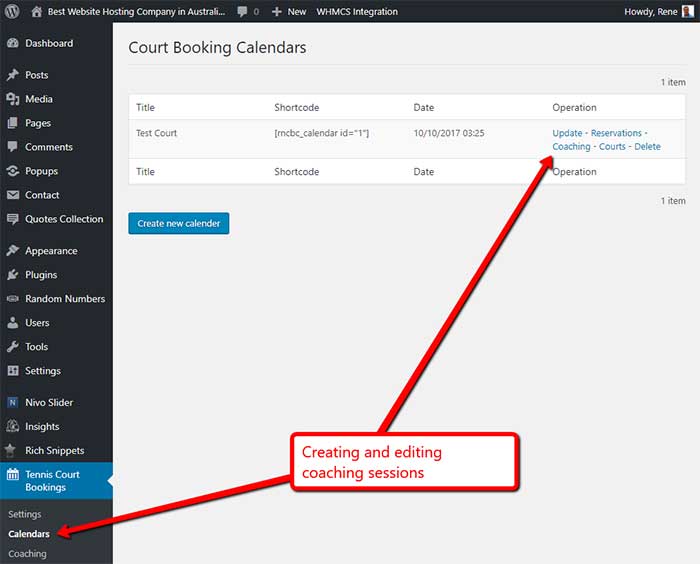 Then simply click the create button…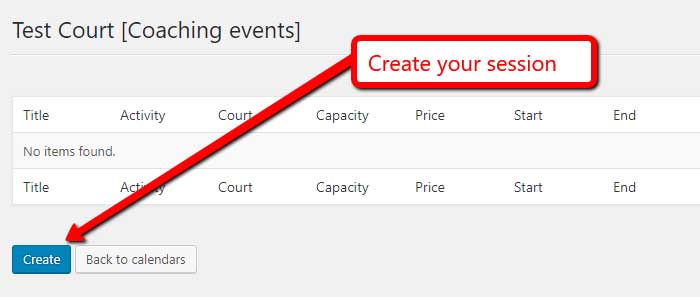 From here you set the parameters of your tennis coaching session…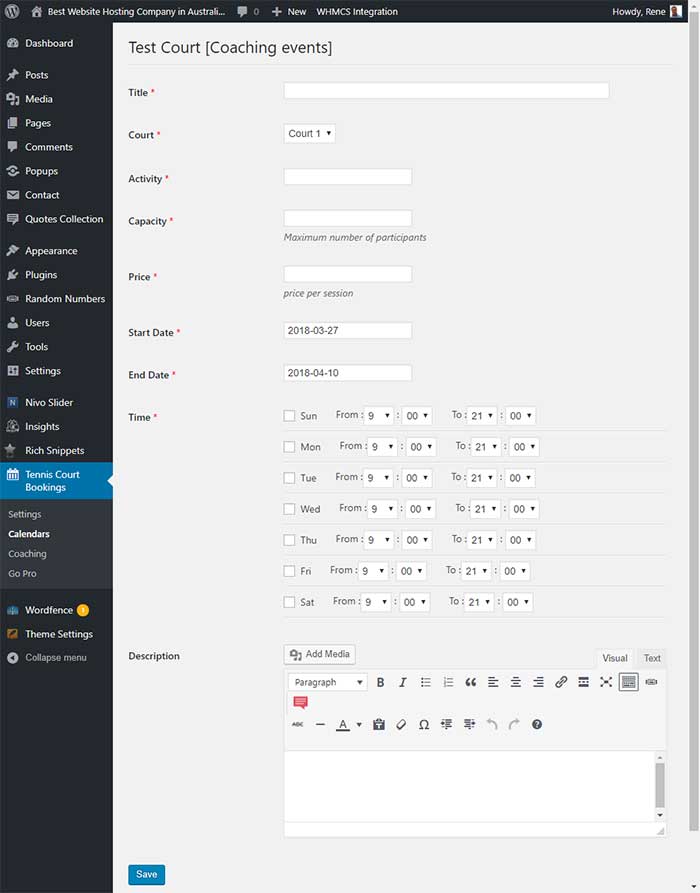 Title
Simply add a title to your event. For example, "Under 12 Juniors Group Coaching"
Court
Select on which of the clubs courts you are conducting the event. Just pick the appropriate court from the dropdown list.
Activity
For example, "Group Coaching" or "Private Coaching"
Capacity
You can set the maximum number of participants (if any). The booking form will count down from this number until your session is booked out. Leave blank for no maximum.
Price
Here you can enter the price per person for you session.
Start and Finish Dates
This will determine the period you want the session to run over. For example, you can set your session for 3 months running starting from next month…
Time
Enter the recurring days and time. Your session will repeat on those times and days and these will be blocked out for you on the front-end booking form.
Description
Here you can describe your activity. Say whatever you think is relevant. For example,
Group Coaching for under 12.
Minimum age 9
Session runs for 50 minutes starting on the hour.
Cost – $12
No cancellation or refunds
Dress: tennis shoes and appropriate attire.
Sunscreen and water supplied but a water bottle is required.
Viewing your coaching sessions
You can find your coaching sessions you created under "Coaching" but remember that you need to create, edit or delete under "Calendar"…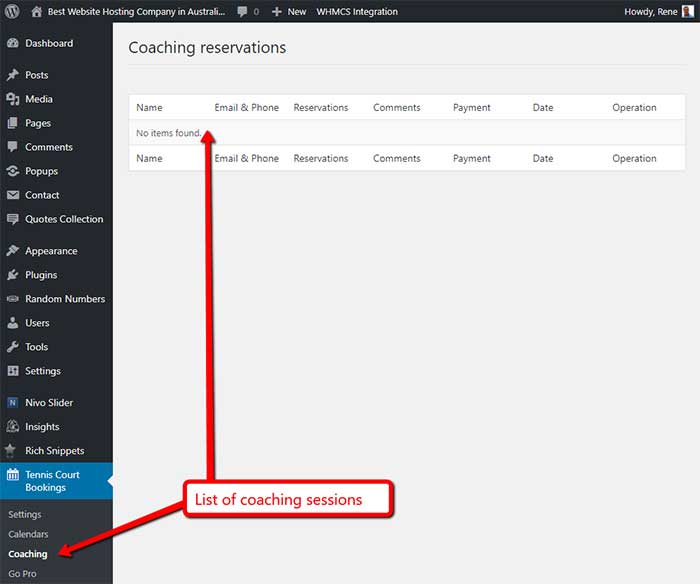 ---
7 – PayPal Module
As a club or as a coach you would like to get paid for hiring out courts or your services respectively. The PayPal Mod does just that…
After purchasing the PayPal module, simply follow the instruction in the confirmation email. You will receive a download link and after downloading follow the instructions already given above…
You need a PayPal account which is easily set up here:
https://www.paypal.com/gb/webapps/mpp/merchant
Simply fill out the require fields and you are on your way…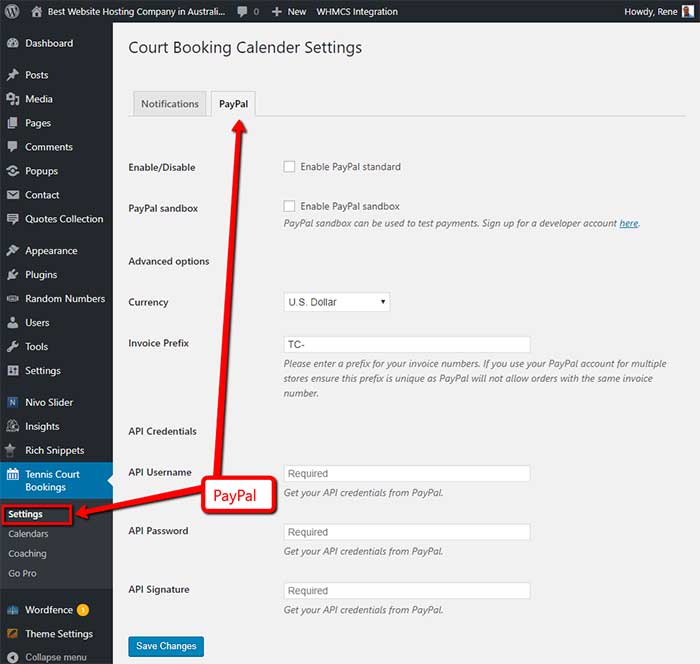 Enable/Disable
Simply enably by ticking the box…
PayPal sandbox
If you want to test your PayPal connection and the system you just set up then you can tick this box. The system will work fully but no payments will be registered. Consider this your practice space.
Currency
Set the currency you want players and participants to pay you in. Note that this must match your PayPal account.
Invoice Prefix
You may want to pre-fix your invoices in PayPal so you can easily recognise that the payment is from your booking plugin. For example, "MyClub -". This will put out an invoice number like "MyClub – 00001"
API Credentials
You can find these in your PayPal account.
Follow these steps:
Log in to your PayPal Business account
Click the My Account tab
Click the Profile tab
Click Request API credentials under Account information
Click Set up PayPal API credentials and permissions under Option 1
Click Request API Credentials
Click Request API signature
Click Agree and Submit
Copy & Paste the credentials into the plugin
Save changes