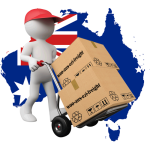 WooCommerce is beautiful eCommerce software that works. But in Australia, freight and courier issues are often hard to overcome with generic international freight extensions. This is why we developed; WooCommerce Freight Extension, a great extension for WooCommerce that takes advantage of the lightweight Australian Post "Click & Send" flat rate sachets and combines this with the power of InterParcel's brokerage strength for larger parcels. In the end, your customers will safe big bucks on their freight costs!
So what does the WooCommerce Freight Extension do?
With the WooCommerce Freight Extension, you simply unleash the power of box packing so your clients pay less for freight even when they buy several different products.
Based on the product shipping data, the extension determines the accumulative weight of all goods in the shopping cart.
It then calculated the total volume of all the goods in the cart.
From there, it picks the smallest sachet or box that is able to contain all items so your clients receive the most economical freight possible.
The extension works with Australian Post sachets and boxes.
The actual packaging material can be purchased from Australian Post. The sachets are dirt cheap and extremely easy to use. Labels are printed easily through the Click and Send system. You need to open a free account with Click and Send first and you need to own a printer. The boxes can also be purchased from your local Post Office and are great value with bulk discounts available.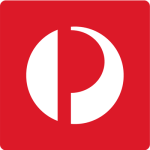 Australian Post Sachets
By utilising Australian Post's "Click and Send", you are assured you get great value freight for small items up to 5 kg. Sachets come in 500 g, 3 kg and 5 kg and can contain most items ranging in size from paperback books to large shoe boxes. The great thing about Click and Send sachets is the fact that they offer an Australian wide flat rate. Postage rates work out relatively cheap if you send goods Australian wide. Plus; if you send more than 250 parcels per year, you will receive a discount. Register with Click and Send…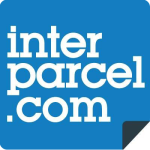 So what if your sachet is too small or your items are too heavy?
Australian Post discontinues their 15 kg flat rate box which left a lot of eMerchants in the cold. If you send 10 kg bags of "whatever" around the country, these 15 kg boxes were perfect. Since this is discontinued, we needed to find an alternative. The best solution is brokerage. Simply get a quote from all the major courier companies and let your customers pick the one they like based on price, brand, transit cover or speed. Register with InterParcel…
Features
Configure you freight to Box Packing, Total Weight or Individual Items.
Create your own parcels configuration for box packing with custom dimensions and maximum weights
Set your own title and shipping method
Lock in your own post code from where the parcels are being picked up from
Assign you own custom tax rate (standard 10% GST)
Set additional handling days to calculate final estimated delivery date
Set additional handling cost to determine the final cost to your customers
Set number of options to display for your customers ranging from cheapest to all
Works in with other shipping methods such as free pick-up or local delivery
Puts your customers in charge
Gives your customers confidence that get the cheapest deal
 $89.00



Box Packing options
Make up any type of parcel you like and set the maximum weight and dimensions…


 Let your customers pick…
Your customers can make their chose based on the fact that they know this is brokeraged and therefore "best value".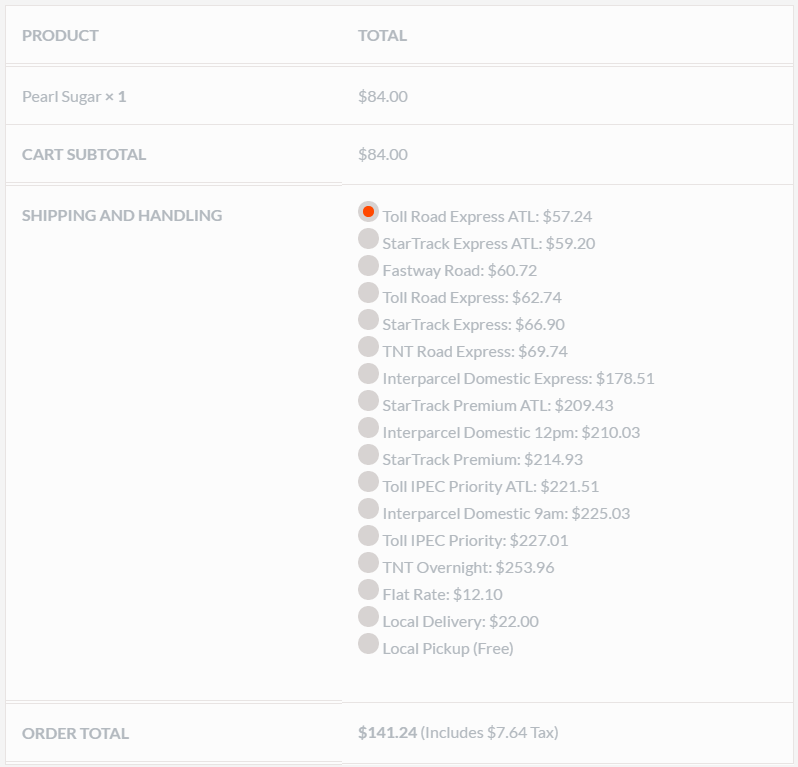 $89.00


 FAQs
Q: What does this WooCommerce Freight Extension do?
A: It calculates the cheapest freight for your customers based on the weight and size of the combined products in their shopping cart.
Q: Do you need WooCommerce installed for this WooCommerce Freight Extension to work?
A: Yes.
Q: Will this WooCommerce Freight Extension work for carts located outside Australia?
A: No. The WooCommerce Freight Extension is specifically developed for Australian based businesses. However, the freight can be send worldwide.
Q: Why is the WooCommerce Freight Extension better than the Australian Post plugin
A: The Australian Post plugin is great but it only uses services from 1 supplier; Australian Post (no surprises there…). The WooCommerce Freight Extension on the other hand was commissioned by a prominent Australian eCommerce business with only one thing in mind; don't maximise Aus Post's profits but reduce my customers freight charges! So we did… WooCommerce Freight Extension uses Australian Post as well as a range of well known courier companies to find the cheapest freight quote in Australia. This simply means your customers will pay less for freight.
Q: Is Woo Aus EZi Freight fully customisable?
A: Yes. There are lots of variables you can customise such as unlimited types of boxes, tax rates, the "Freight Method Title" so you can brand your freight, additional packaging days, additional handling cost, maximum shipping services limit to display and much more…
Q: Do I need to open any accounts?
A: Yes. To take full advantage of the WooCommerce Freight Extension, you need to open an account with Australian Click and Send (FREE) and InterParcel (FREE).
Q: What is the difference between the free version of WooCommerce Freight Extension and the paid version?
A: First, there is no difference in functionality. The only difference is that the free version will display a little link in your client's shopping cart saying: "This plugin is not Licensed, please visit EZiHosting to active your plugin!". Annoying, I know but we put a lot of effort into developing this extension and we like to recover some of the cost we incurred. Also, the Free trial version of the WooCommerce Freight Extension doesn't come with any updates or support. So please don't delay and obtain your license key and activate it so together we can eliminate world poverty… 🙂
Trouble Shooting
To start with, for box packing to be calculated the plugin needs to know a few things…
It needs to know if you want shipping in the first place (WooCommerce >> Settings >> Shipping).
If you want to utilise the plugin (WooCommerce >> Shipping >> Settings >> Woo Aus EZi Freight).
Where you are sending the goods from (Woo Aus EZi Freight config page) and where the goods are going (entered by your customer).
The weight, lenght, width and hight of the product (WooCommerce >>Products >> Product Data >> Shipping).
It also needs some box sizes (Woo Aus EZi Freight config page).
1. No freight is calculated at all
First make sure that shipping is enabled in WooCommerce. You just let Woo know that you want to use some sort of shipping method. Just go to WooCommerce >> Settings >> Shipping >> Shipping Options and make sure the "Enable shipping" and "Enable the shipping calculator on the cart page" are both ticked.

Also make sure you have enabled the plugin by going to WooCommerce >> Settings >> Shipping >> Woo Aus EZi Freight and enabling it by ticking "Enable Woo Aus EZi Freight".

2. My freight is applying flat rate sachets but not calculating any larger items
Make sure you registered with InterParcel and enter your InterParcel login credentials into the plugin's configuration. If this is not filled in you will find that the plugin cannot communicate with InterParcel.

Make sure your products in Woo have the weight set as well as the size dimensions ( L x W x H ).

 3. The plugin is not calculating boxes correctly
Ensure you have enabled box packing. Also make sure you entered the relevant information into the plugin's configuration page. This includes the city and postcode you are sending the goods from. Otherwise, InterParcel will not know the full details of the shipment.

4. Most shipping costs are calculated correctly but some larger items are not calculating.
InterParcel will ship just about anything to anywhere. However, sometimes your parcel may be expremely large or heavey or both or it may have to be shipped to an unusual destination (for example, a war zone). If this is the case, InterParcel will put up a message saying to contact them for a custom quote. If you are experiencing this issue (ie, some parcels will have no shipping options) then you should log onto the InterParcel site and try to enter the details manually. If Interparcel will not quote manually, then it can't quote through the plugin either.
Licence
GNU GENERAL PUBLIC LICENSE
Free version
If you happy with our free version of WooCommerce Freight Extension then that is OK. It is really a trial version but you can use it "as is" for as long as you like. However, there is nothing that says "Thank You" like a small donation. Our developers will love you and your donation will assure future free updates…
Summary
Author Rating





Brand Name
Product Name
Price
Product Availability